The Latest News.
The AGM was held today.
Highlight was the awarding of a life membership to Tim Sandrey.
Congratulations Tim, a well-deserved award.
.
.
.
.
15 – 6 – 22
Bowls Canterbury has released its 2012 – 23 programme.
Click on the link below to be directed to the programme.
http://bowlscanterbury.co.nz/programme/
Here are some pertinent points for Elmwood Park.
Interclub
Due to the late notification of the Aotearoa Bowls tournament in Christchurch on Waitangi Weekend, we have had to move interclub. This has unfortunately resulted in a double header on the 18th February.
A strong theme in the submissions was there should be no interclub scheduled for Saturday afternoons. To accommodate this request Saturday interclub will start slightly earlier in the season and will all be played in the mornings.
Any Combination (AC)
There were a lot of requests for more mixed/gender neutral events. BC has introduced some AC events into the interclub programme.
Over 60s Mondays
Play will commence at 1pm on Mondays. This will allow greenkeepers to have Monday Mornings to work on their greens. The Over 60's competitions will be graded into divisions rather than sections. A problem for Elmwood Park as the popular Edwards Cup is played on Monday afternoons.
Post-Christmas Over 60's Sevens & Women's Premier Sevens
Will now be two pairs, one triple
AC 8s Post Christmas
Will compete for the Manning Cup
For fuller details go to the above link.
Possible Available competitions for Elmwood Park.
Pre Christmas           Begins Oct. 15


Mon. 1.00   O60 Fives
Wed. 9.30   Men's double pairs     Women's Fives     1.00 Women's Rountree Cup     6.00 AC Pairs
Thurs. 6.00   U5 Pairs
Sat. 9.00   Premier men's 3×4 pennants  Premier women's 2×4 pennants   AC 2×4   U5 triples
Post Christmas           Begins Jan. 21
Mon. 1.00   060 Sevens
Wed. 9.30   Men's double pairs   Women's double pairs   6.00 AC Pairs
Thurs. 6.00   U5 Pairs
Sat. 9.00   Men's Watson Shield   Men's 3×3  Premier women's sevens   AC 8s   U5 Fours

.
Some of the key changes, in line with our Club's submissions are:
1.  All competitions a minimum of 7 rounds, as opposed to some 5 round competitions last year.
2.  A much earlier start to the season both before and after Christmas
3.  No clash of Centre events and Interclub on Saturdays
4.  All women's events on Saturday mornings
Other key changes, supported by our Club's submissions to the draft playing programme:
1.  All interclub on Saturday, below premier grades, to be any combination, i.e. men, women or mixed.
2.  Over 60's Sevens  and Women's Premier Sevens – 2 pairs, 1 triple – NO fours or singles.
3.  National Interclub 7's now includes a Division 2, as well as Division 1. This was strongly advocated for by our Club.
Changes not made to Programme despite our submissions:
1.  Monday Over 60s events remain in the afternoon not the morning despite our strong submission that it is inappropriate and should go to Tuesday morning. This may impact on individual and green availability, given our Edwards Cup involvement on Monday afternoons.

2.  No Saturday afternoon play post Christmas, i.e. no Manning Cup. Manning Cup is now to be played for in the Any Combinations 8s post Christmas on Saturday mornings.
Manager, Match/Competitions
Gary Lawson suspended.
On the 26th May, 2022, the Bowls Canterbury Judicial Panel upheld one complaint of misconduct and dismissed two additional complaints for misconduct, against Mr. Gary Lawson.
On Thursday 9th June 2022, the Bowls Canterbury Judicial Panel determined that Mr. Lawson shall be censured for his misconduct and shall be suspended from all categories of bowls for 16 weeks, from the 26th  May, 2022. This shall be reduced to ten weeks, should Mr. Lawson complete an approved diversity inclusion training programme.
Moving ahead!
.
The framing is starting to go up on the new build at Heaton Street. 
3 – 6 – 22
A small ceremony at Donald Place to present awards to two club members who were unable to attend the Bowls Canterbury Awards Dinner.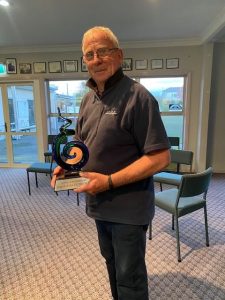 Murray Scott. Volunteer of the year.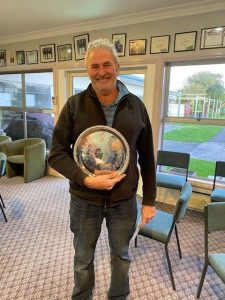 Kelvin Scott. Sportsperson of the Year.
.
31 – 5 – 22
Blackjack Gary Lawson has withdrawn from a Trans-Tasman series due to be played over Queen's birthday weekend. Will his exclusion from the upcoming series puts his Commonwealth Games selection in doubt. He will be replaced by Auckland-based bowler Mike Galloway.
The team heading to Queensland for the Trans-Tasman series includes Parajack debutants Pam Walker and Gerald Brouwers who join Mark Noble, Graham Skellern, Kevin Smith, Lynda Bennett, Sue Curran and Bronwyn Milne.
The Blackjacks comprise Ali Forsyth, Mike Galloway, Tony Grantham, Andrew Kelly and Shannon McIlroy (men) and Tayla Bruce, Selina Goddard, Katelyn Inch, Val Smith and Nicole Toomey.
Bowls Canterbury Awards evening was a successful night for the Elmwood Park Bowling Club 
Congratulations to the winners.
.

From the Bowls Canterbury Awards.
What an amazing night!   What an amazing club!!!

Interclub Winners 
Men's Sevens Div 1
Women's Sevens Div 1
Women's 2×4 Pennants Div 1
Women's Eights Div 1
Centre Event Winners
Over 60s Fours   Bev Morel   Ray Hooper   Bruce Humphreys   Jan Shirley
Men's Singles   Nathan Glasson
Women's Pairs   Jan Shirley   Tania Woodham
Men's Triples   Gary Lawson   Kelvin Scott   Nathan Glasson
Mixed Fours   Bev Morel   Jan Shirley   Steve Bowden   Ray Hooper

Champion of Champions Winners
Men's Singles   Ricky Cook – Redcliffs Mt Pleasant
Men's Triples   Nathan Glasson   Kelvin Scott   Ricky Cook
Bowls New Zealand National Awards
Women's Championship Singles   3rd= Mandy Boyd
Men's Championship Singles   1st   Kelvin Scott
Women's Championship Pairs   1st   Sandra Keith   Bev Morel
Men's Championship Pairs   2nd Gary Lawson, Tony Grantham    3rd= Kelvin Scott   Barry Williams
Special Centre Awards
Gold Star winners
5 Centre Titles     Nathan Glasson
10 Centre Titles   Jan Shirley      Kelvin Scott      Gary Lawson

Team 0f the Year   Elmwood Park Saints
Top 4 Consistent Male Players
Kelvin Scott
Ricky Cook
Nathan Glasson
Consistent Male Player of the Year
Nathan Glasson
Top 4 Consistent Female Players
Jan Shirley
Sportsman of the Year
Kelvin Scott
Volunteer Of The Year
Murray Scott
.
25 – 5 – 22
Today there were some further positive developments at the clubrooms down at Heaton Street. With the walls starting to take shape, concrete trucks were in this morning to concrete pour the floor slabs.
Indoor bowls continues.
Here are the Monday bowls boys resting before games start.  A fine looking bunch.
.
15 – 5 – 22


Some snapshots from a pleasant prizegiving evening at Donald Place.   

Clubhouse. The team at Armitage Williams have been busy on the construction of the new clubhouse at Heaton Street. The concrete panels have been craned into place and the ground is currently being prepared for the floor slab to be poured.
.
19 – 4 – 22
EPBC is in the process of an ambitious rebuild project of a new clubhouse and green at our Heaton Street location. The new facility will be one of the best in the country and will be an asset to the lawn bowling community in Christchurch. After some initial delays, the site has now been cleared and the concrete slab for the new building is almost ready to be poured.
New Zealand has moved into 'Orange' on the COVID-19 Protection Framework.
What does this mean for bowling clubs?
* Indoor gatherings no longer have capacity or distancing requirements
* Mask wearing is now optional
* Clubs remain able to welcome all members (including unvaccinated)
* No QR scanning required
At all levels, the testing and isolation requirements remain as they are now. If you have symptoms or someone in your household tests positive, isolate and get tested.
Bowls New Zealand also encourages Centres and Clubs to now review their Conditions of Play and H&S policies, with the above changes to COVID restrictions in mind.
Black Caps Selection Battle.
The Bowls New Zealand High Performance squad will gather at the Rocky Nook Bowling Club in Auckland on the 12th and 13th March, for their second and final pre-Commonwealth Games Trial.
Elmwood Park members will be hoping that Lance Pascoe and Gary Lawson will be successful in their selection bids.
The Bowls New Zealand selectors Peter Belliss and Phillip Skoglund have named ten men and eight women, who will have the opportunity to push for the selection to be named in the Commonwealth Games side.
Head Coach, Mike Kernaghan said, "During the last trial, it was clear that every player has been putting in the hard yards, we expect to see the same at the upcoming trial and are confident that whoever is selected for the New Zealand team will represent our country with distinction".
Chris LeLievre will be able to travel from where he is domiciled in Australia to attend this trial, however Ali Forsyth and Katelyn Inch are unable to do so.
The selected players for this trial are;
Men: Sheldon Bagrie-Howley, Seamus Curtin, Mike Galloway, Tony Grantham, Andrew Kelly, Gary Lawson, Chris Le Lievre, Ray Martin, Shannon McIlroy, and Lance Pascoe.
Women: Tayla Bruce, Selina Goddard, Kimberley Hemingway, Clare Hendra, Leeane Poulson, Val Smith, Nicole Toomey, and Debbie White.
A team of five men and five women will be nominated to the NZOC for approval to compete at the Commonwealth Games following the conclusion of the trial.
The Commonwealth Games are being held in Birmingham from the 28th of July to the 8th of August. 
Join up.      Contact Us.
BE PROUD OF YOUR CLUB
Learn the laws of the game and if you want to succeed practise as often as you can
and include the rolling of the jack.
Be proud of your club and protect it from gossip.
If you disapprove of some action taken by your committee tell the committee, not the world.
Support your club's revenue making activities – the benefits will come back to you.